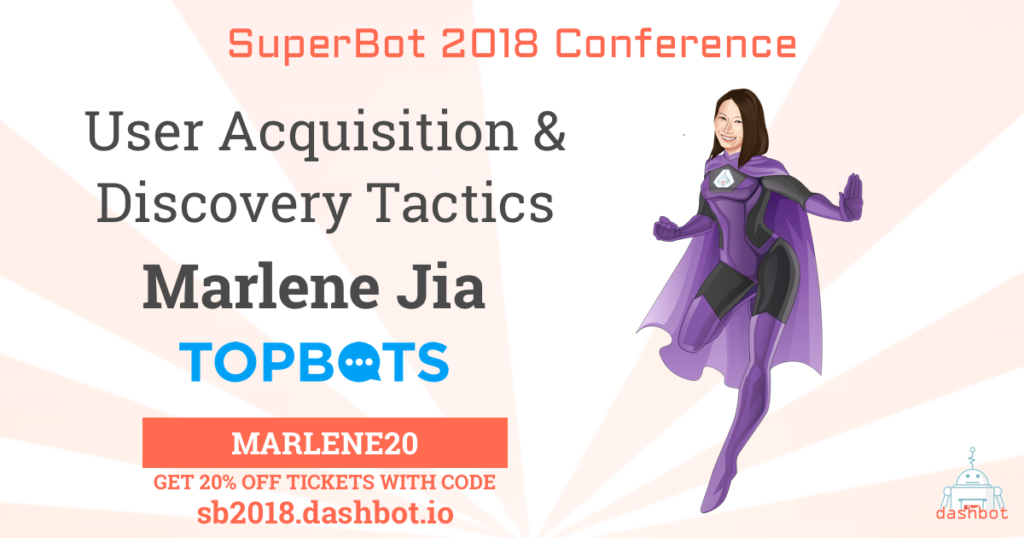 Marlene Jia of TopBots to Discuss Acquisition & Engagement at SuperBot 2018
Are you building chatbots and want to learn how to increase user acquisition and engagement?
Attend SuperBot 2018 to hear from Marlene Jia of TopBots, and our panel of industry experts as they discuss the benefits of chatbots and how to increase user acquisition and engagement.
Marlene works with brand clients such as L'Oreal, WPP, and PayPal on their applied AI and bot technology initiatives. Her expertise in enterprise software and best practices helps corporations successfully evaluate, develop, and integrate emerging technologies. Prior to TOPBOTS, she built go-to-market sales teams at high-growth companies like UStream, Wizeline, and Sales Bootcamp and was COO of Xanadu, a leading strategy and design firm in emerging technology. She's recognized by INC as a top 10 keynote speaker and recently presented at AI With The Best and Insight Exchange Network. Marlene studied economics at Northwestern University, starting her first company there. Her first venture had millions of dollars in sales and she has been a serial entrepreneur ever since then.
Meet Marlene at SuperBot 2018, the ultimate bot & AI conference.