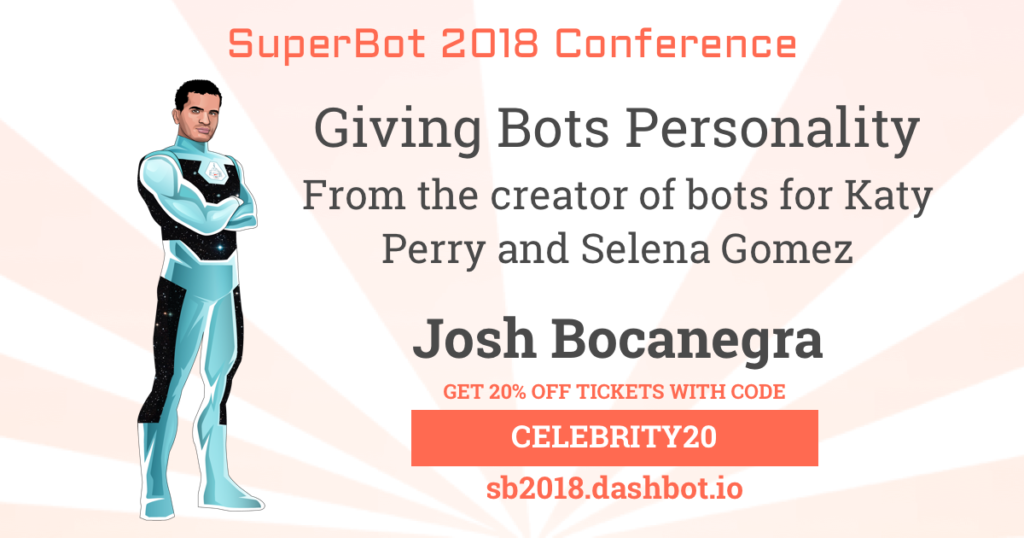 Josh Bocanegra, celebrity bot creator, explains how to develop bot personalities
Josh Bocanegra created chatbots for Katy Perry, Selena Gomez, and Christina Milian by analyzing their speaking style on social media and watching their video interviews. He will be dishing more bot building tips and tricks at SuperBot 2018, the ultimate bot & AI conference.
Josh is a serial entrepreneur, digital marketer and software developer. His work has been featured in Forbes, TIME, TechCrunch, Bloomberg, Popular Science and many more. In 2016, he launched Persona, a chatbot / artificial intelligence company focused on building chatbots for public figures. Shortly after, Christina Milian joined the company as co-founder to help fulfill the company mission. Persona is the first chatbot company in Los Angeles and Christina Milian has the first celebrity chatbots on the Facebook Messenger platform.
Learn bot building and user acquisition tactics from Josh Bocanegra at SuperBot 2018. Get a sneak preview here.
Use code CELEBRITY20 to get 20% off your tickets.