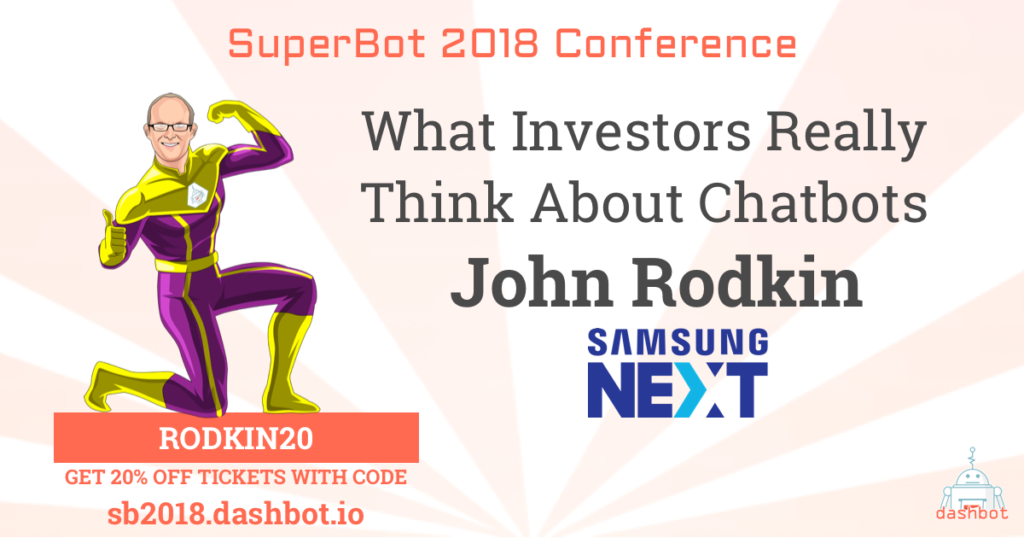 John Rodkin, Managing Director & GM of Samsung Accelerator SF, shares what investors think about bots
John Rodkin is the managing director and GM of Samsung Accelerator in San Francisco.  He is a practicing entrepreneur who has been the CEO and co-founder of three venture-backed companies, two of which exited successfully. The first, Flyswat, launched the contextual hyperlink advertising market and was acquired by NBC Internet for $120 million. The second, ClickShift, was a search engine marketing company acquired by WebTrends that grew to manage over $100 million in annual client spend. The third was an insurance business that eventually failed. He started all three of these companies while a law student at the University of Chicago. In addition to the venture-backed businesses, John has exited successfully one small LBO and one self funded enterprise.
At last year's SuperBot Conference John noted the importance of solving a problem rather than focusing on a messaging platform, "We want to focus on the fact that you've chosen a platform because it's the best way to meet the users at their pain and solve what it is they're trying to do. We care about the problem you're solving and how compelling that is to the user base and how much pain it's solving for them and how valuable that pain is."
Hear what investors really think about chatbots and voice platforms at SuperBot 2018. Use RODKIN20 to get 20% off your ticket now!